Sport
Unemployment in Scotland falls by 9,000 to 100,000
Image copyright PA The number of Scots seeking work fell by 9,000 to 100,000 between August and October, according to official figures. The jobless rate now stands at 3.7%, just below the UK figure of 3.8%.Data from the Office for National Statistics also showed that the number of Scots in employment fell by 21,000, to…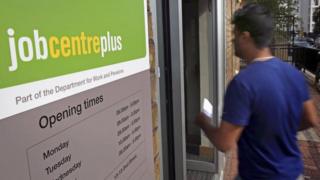 The number of Scots seeking work fell by 9,000 to 100,000 between August and October, according to official figures.
The jobless rate now stands at 3.7%, just below the UK figure of 3.8%.
Data from the Office for National Statistics also showed that the number of Scots in employment fell by 21,000, to 2,648,000.
At the same time, there was a rise of 30,000 in the number of people counted as unavailable for work, including the ill, students and unpaid carers.
Meanwhile, UK-wide wage growth, excluding bonuses, slowed to 3.5% from 3.6% from July to September.
Scotland's Business Minister Jamie Hepburn said the Scottish labour market was resilient, despite uncertainty raised by Brexit.
He said: "These statistics indicate that Brexit may be negatively impacting employment in Scotland.
"However, there are signs of resilience in our labour market and positive results for those out of work."
The job numbers vary from one quarter to another, but the broader picture, by historic standards, is that they look strong.
However, they fail to tell us anything about the quality of jobs. There is now some help with that, highlighted in the latest commentary from the Fraser of Allander Institute.
It reports on new "exploratory" statistics which seek to measure the "good jobs" market. A good job is one where employees work 48 or fewer hours a week, without wishing to do more hours; the employee has either a permanent contract or a non-permanent contract out of choice; and pay is above two-thirds of median earnings.
One interesting finding, when the analysis is broken down to council areas, is that the more prosperous parts of Scotland are not the ones with the "good jobs". Edinburgh, Aberdeen, Aberdeenshire, South Ayrshire and Stirling have the lowest proportion of quality jobs.
The highest ranked include South Lanarkshire, Clackmannanshire, West Dunbartonshire and West Lothian. Why? The Strathclyde University economists say they'll get back to us on that.
My guess: the higher the share of manufacturing, the higher the share of quality employment. Those with insecure jobs seem more likely to be in cleaning and catering on the urban margins.
Good news, meanwhile, for Scottish earnings. Growth is muted, but survey evidence suggests a turnaround for Scottish pay – growing at a faster rate than earnings across the whole UK.
However, that is much clearer at the upper end of the earnings range, so it doesn't look so good for reducing income inequality.