Sport
Plane in US sprinkles 100 gallons of holy water
Image copyright Diocese of Lafayette Image caption Parishioners brought water to be blessed before the flight A US Roman Catholic church in south-western Louisiana has come up with a novel way of blessing its parish. Rev Matthew Barzare of St Anne Church in the rural community of Cow Island took up the suggestion of a…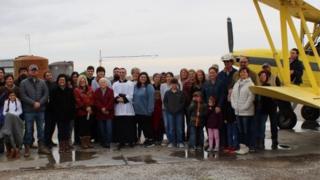 A US Roman Catholic church in south-western Louisiana has come up with a novel way of blessing its parish.
Rev Matthew Barzare of St Anne Church in the rural community of Cow Island took up the suggestion of a parishioner to spray 100 gallons (454 litres) of holy water from a plane.
His parish is spread over a wide area so Rev Barzare decided a crop dusting plane would be a quick solution.
There are plans to make it an annual event using 300 gallons.
The water was sprayed onto the town and surrounding farms in the run-up to Christmas, the Diocese of Lafayette said. The idea came from parishioner L'Eryn Detraz, a resident of Cow Island currently working as a missionary in Ohio.
There is a tradition of blessing the fields and the local community, especially around harvest times, the Rev Barzare told NPR radio. Church-goers carried water to a local airstrip where it was blessed before being loaded onto the aircraft.