Sport
Mexican GP: Max Verstappen on pole as Valtteri Bottas crashes heavily
Red Bull's Max Verstappen took a stunning pole position at the Mexican Grand Prix ahead of the Ferraris of Charles Leclerc and Sebastian Vettel.Verstappen beat Leclerc by 0.266 seconds as Mercedes' Valtteri Bottas crashed trying to improve on his sixth place.Lewis Hamilton, who will win the championship one Sunday if he finishes 14 points ahead…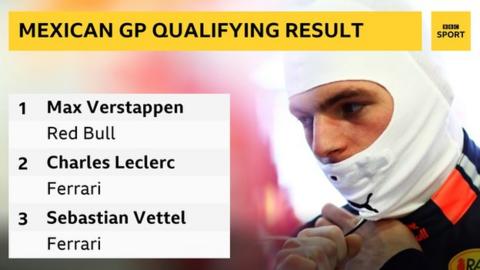 Red Bull's Max Verstappen took a stunning pole position at the Mexican Grand Prix ahead of the Ferraris of Charles Leclerc and Sebastian Vettel.
Verstappen beat Leclerc by 0.266 seconds as Mercedes' Valtteri Bottas crashed trying to improve on his sixth place.
Lewis Hamilton, who will win the championship one Sunday if he finishes 14 points ahead of Bottas, starts fourth, ahead of Red Bull's Alexander Albon.
There are questions, however, as to whether Verstappen slowed sufficiently for Bottas' crash.
Did You See This CB Softwares?
37 SOFTWARE TOOLS... FOR $27!?
Join Affiliate Bots Right Away
More to follow
How Hamilton can win the title in Mexico
Win plus fastest lap with Bottas lower than third
Win with Bottas lower than fourth
Second plus fastest lap with Bottas lower than seventh
Second with Bottas lower than seventh
Second with Bottas lower than eighth if Bottas sets fastest lap
Third and fastest lap with Bottas lower than eighth
Third with Bottas lower than ninth