Sport
Kayden McGuinness death: Liam Whoriskey jailed for killing toddler
Image caption Kayden McGuinness was found dead at a flat in Colmcille Court on 17 September 2017 A man convicted of killing a three-year-old boy in Londonderry has been sentenced to 15 years.Liam Whoriskey, of Glenabbey Gardens, Londonderry, was found guilty in October of the manslaughter of Kayden McGuinness.The three year old was found dead…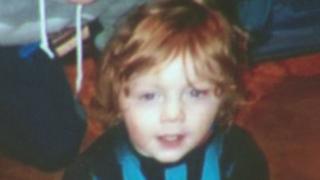 A man convicted of killing a three-year-old boy in Londonderry has been sentenced to 15 years.
Liam Whoriskey, of Glenabbey Gardens, Londonderry, was found guilty in October of the manslaughter of Kayden McGuinness.
The three year old was found dead in his bed in his family flat at Colmcille Court in the Bogside in Derry in September 2017.
He was sentenced at Londonderry Crown Court on Monday.
Whoriskey, who had denied killing the toddler, will serve half of his sentence in prison and the other half on licence.
He was found guilty of manslaughter and of one charge of child cruelty in October.
Sentencing, Judge Phillip Babington said he was aware the case had generated a lot of emotion.
He said there were a number of aggravating factors in this case, including that Kayden had been a particularly vulnerable child, and that Whoriskey had been in the position almost of stepfather, which amounted to an extremely serious breach of trust.
Furthermore, the judge said the acts leading to the unlawful killing of the toddler were not isolated and that the defendant's behaviour illustrated he had a propensity for aggression and violence in a domestic setting.
Judge Babington said he had read victim impact statements from Kayden's mother and Kathleen McGuinness, the toddler's grandmother, and it was clear both were devastated.
Kayden McGuinness' mother Erin McLaughlin, who was in the public gallery, left the court sobbing at the point when the judge began reading out her son's injuries.
The judge said the court could only express its sympathy, as any sentence imposed on the defendant paled into insignificance when contrasted with the fact a very young child had died.
It could only be hoped this trial brought some form of closure for the family, the judge told the court.
Whoriskey has also been barred from residing in the same place as a child under 18 years old or having any unsupervised contact with a child.
'Remorseless'
Speaking outside court, PSNI Det Insp Peter McKenna described Whoriskey as "remorseless."
"Throughout this investigation Whoriskey has shown no remorse for what he did," he said.
"At the time of Kayden's death he was being assessed for autism, Whoriskey knew that.
"He knew that this three-year-old child, already vulnerable because of his age, and some communication difficulties, would never have been able to tell what happened to him had he survived."
Det Insp McKenna said Kayden's family have been destroyed by his death.
"I hope that if nothing else, today brings some sort of closure to Kayden's family, and whilst I stand here today and condemn Whoriskey's despicable actions I do not want this to be the last thing people remember about Kayden," Det Insp McKenna said.
"I want them to remember a beautiful three-year-old Derry boy who in his family's own words, was a happy, smiling and much loved child," he said.