News
George Floyd death: Minnesota governor decries violent protests – The Union Journal
Media playback is unsupported on your device Media captionThe mayor of Minneapolis said of the unrest: "This needs to stop"Violent protests over the death of an unarmed African-American man in the hands of police officers in Minnesota "are no longer in any way" about his killing, the state's governor has said.Tim Walz spoke after a…
Violent protests over the death of an unarmed African-American man in the hands of police officers in Minnesota "are no longer in any way" about his killing, the state's governor has said.
Tim Walz spoke after a night of unrest in several US cities over the death of George Floyd in Minneapolis.
He said that as a result he was taking the unprecedented step of mobilising the state's entire National Guard.
There are also reports that military police units could deploy.
An ex-Minneapolis policeman has been charged with murder over the death of Mr Floyd, 46, in police custody on Monday.
Derek Chauvin, 44 and white, was shown in footage kneeling on Mr Floyd's neck for several minutes, even after he said he couldn't breathe. He and three other officers have since been sacked.
The video went viral online, reigniting US anger over police killings of black Americans, and reopening deep wounds over racial inequality across the nation.
On Friday night protesters clashed with police in cities including New York, Atlanta and Portland. In Washington DC, the White House was briefly locked down.
In Houston, where George Floyd grew up, a 19-year-old protester told the Associated Press: "My question is how many more, how many more? I just want to live in a future where we all live in harmony and we're not oppressed."
In Minnesota, "our great cities of Minneapolis and St. Paul are under assault," Governor Walz said. "The situation in in Minneapolis is now about attacking civil society, instilling fear and disrupting our great city."
He said violence on Friday night had made "a mockery of pretending this is about George Floyd's death, or inequities or historical traumas to our communities of colour".
He and other officials have suggested that many violent protesters came from outside the state to cause trouble, but did not give details.
President Donald Trump praised the US Secret Service for securing the White House but said if protesters breached the perimeter they "would have been greeted with the most vicious dogs, and most ominous weapons, I have ever seen". He blamed violence on "organised groups".
What's the latest on the protests?
Minnesota remains the most volatile region, with curfews ordered for the Twin Cities of Minneapolis-Saint Paul from 20:00 to 06:00 on Friday and Saturday evening.
Protesters defied the curfew on Friday. Fires, many from burning cars, were visible in a number of areas and television pictures showed widespread looting.
Hundreds of troops from the National Guard, a reserve military force that can be called on by the US president or state governors to intervene in domestic emergencies, moved in late at night.
Minnesota officials said tens of thousands of people turned out on Friday and they are expecting more unrest on Saturday night.
As a result, Gov Walz said he was activating all National Guard troops available in the state – reportedly up to 13,000 – for the first time in history to respond to rioters. The Pentagon said some US military units were on alert to support Minnesota if asked.
There are long-standing tensions between the black community and police in Minneapolis. Another black man, Philando Castile, was shot and killed in 2016 during a traffic stop close to the epicentre of these protests in a case that gained international attention.
African-Americans also suffer significant socio-economic inequalities, entrenched segregation and a higher level of unemployment than the white community.
In Atlanta, Georgia, where buildings were vandalised, a state of emergency was declared for some areas to protect people and property.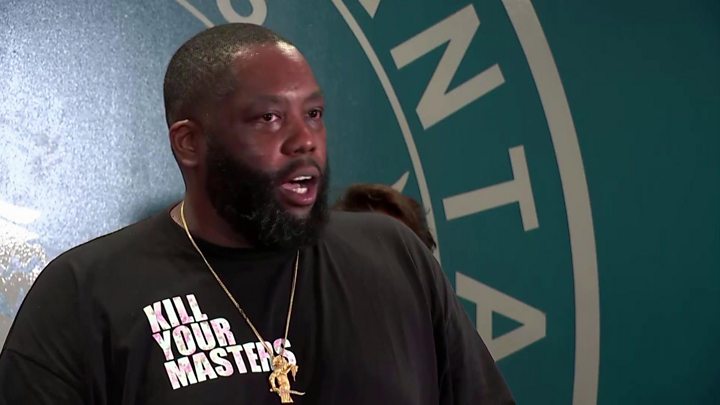 Mayor Keisha Lance Bottoms issued an impassioned plea, saying: "This is not a protest. This is not in the spirit of Martin Luther King Jr. You are disgracing our city. You are disgracing the life of George Floyd."
In New York's Brooklyn district, protesters clashed with police, throwing projectiles, starting fires and destroying police vehicles. A number of officers were injured and many arrests made.
The mayor of Portland, Oregon, has declared a state of emergency amid looting, fires and an attack on a police precinct. An immediate curfew until 06:00 local time (13:00 GMT) was imposed and it will restart at 20:00.
How did the situation get here?
On Monday night, police received a phone call from a neighbourhood grocery store alleging that George Floyd had paid with a counterfeit $20 note.
Officers responded and were attempting to put him in a police vehicle when he dropped to the ground, telling them he was claustrophobic.
According to police, he physically resisted officers and was handcuffed. Video of the incident does not show how the confrontation started.
Did You See This CB Softwares?
37 SOFTWARE TOOLS... FOR $27!?
Join Affiliate Bots Right Away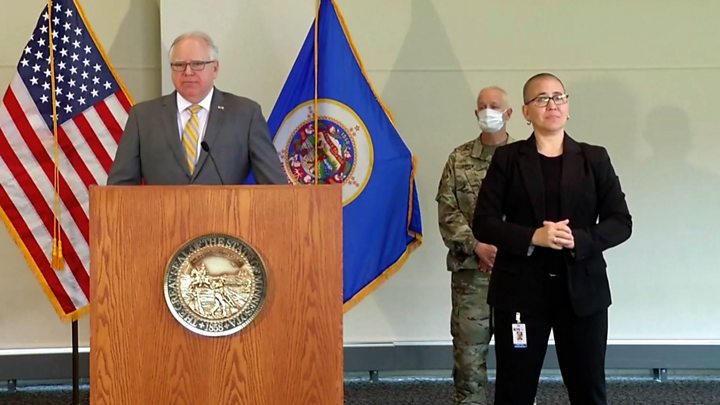 With Mr Chauvin's knee on his neck, Mr Floyd can be heard saying "please, I can't breathe" and "don't kill me".
According to a preliminary autopsy by the county medical examiner, the police officer had his knee on Mr Floyd's neck for eight minutes and 46 seconds – almost three minutes of which was after Mr Floyd became non-responsive.
Nearly two minutes before Mr Chauvin removed his knee the other officers checked Mr Floyd's right wrist for a pulse and were unable to find one. He was taken to hospital and pronounced dead around an hour later.
The preliminary autopsy, included in the criminal complaint against Mr Chauvin, did not find evidence of "traumatic asphyxia or strangulation".
The medical examiner noted Mr Floyd had underlying heart conditions and the combination of these, "potential intoxicants in his system" and being restrained by the officers "likely contributed to his death".
Mr Chauvin was charged on Friday with third-degree murder and second-degree manslaughter over his role in Mr Floyd's death.
Mr Floyd's family and their lawyer, Benjamin Crump, said that this was "welcome but overdue".
The family said they wanted a more serious, first-degree murder charge as well as the arrest of the three other officers involved.
Hennepin County Prosecutor Mike Freeman said he "anticipates charges" for the other officers but would not offer more details.