Sport
Coronavirus: UK exceeds 200,000 testing capacity target
Media playback is unsupported on your device Media captionRobert Jenrick: "The small changes… will have a huge impact on people's mental health"The government is taking "modest" steps in easing lockdown restrictions, Communities Secretary Robert Jenrick has said.He said he was "reasonably confident" the measures would be "manageable", but the room for manoeuvre was limited.From Monday…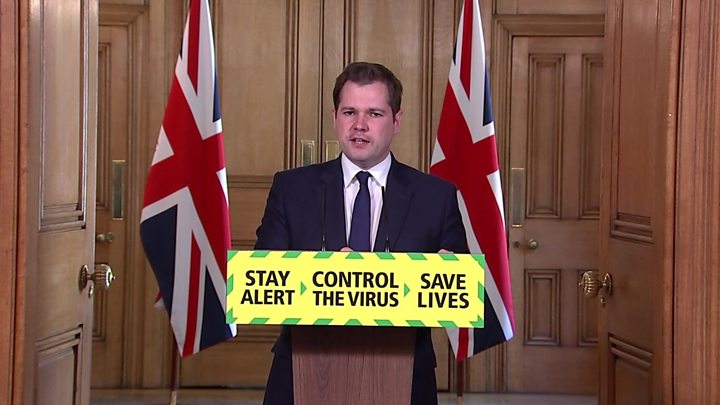 The government is taking "modest" steps in easing lockdown restrictions, Communities Secretary Robert Jenrick has said.
He said he was "reasonably confident" the measures would be "manageable", but the room for manoeuvre was limited.
From Monday in England primary schools will start to reopen and people can meet in groups of up to six.
And vulnerable people in England and Wales will be able to go outdoors for the first time in months.
Meanwhile, the UK has exceeded its target to increase coronavirus testing capacity to 200,000 a day by the end of May.
Mr Jenrick's comments come after some scientific advisers voiced concerns about the timing of the changes.
Speaking at the daily coronavirus briefing, he confirmed the updated guidance on shielding which will mean that people who have been advised to stay home since the lockdown began will now be able to go outside either with members of their household or to meet someone from another household.
But Mr Jenrick said people in this group should only do what they are comfortable with, adding that the advice would be tightened again if conditions became "less favourable".
Some patients' groups have expressed concern at the pace of the changes, and have called for the evidence behind them to be published.
Confirmation of the changes to the restrictions came as it was announced another 113 people have died in the UK after testing positive for coronavirus.
It takes the total number of people who have died to 38,489.
On Saturday, Professor John Edmunds, a member of Sage – the Scientific Advisory Group for Emergencies which advises the government – said the levels of coronavirus were still "very high", adding that it was a "political decision" to ease measures.
But Foreign Secretary Dominic Raab defended the decision to ease lockdown.
He told the BBC's Andrew Marr Show on Sunday that the government had "taken evidence from scientists" and had met the five tests it said were needed to relax restrictions.
"Because we have made that progress, steadily, slowly, surely – week in, week out – we can very gradually, very carefully, take the steps that we are taking tomorrow," Mr Raab said.
From Monday, a number of changes will come into effect across England:
In Wales, people from two different households will be able to meet each other outdoors from Monday.
Groups of four to six people who are not in the same household can meet outdoors in Northern Ireland.
And in Scotland members of two different households are already allowed to meet outdoors.
A UK cancer charity chief has told the BBC he was concerned about the new guidance allowing those who were previously shielding to go outdoors.
"It's not helpful to bring changes really quickly that we don't know the evidence behind," said Alasdair Rankin, Blood Cancer UK's director of research and policy. "We'd like to see the evidence the decision is based on and for the government to be really transparent."
And Phil Anderson, head of policy at the MS Society, said people would "rightly want to hear a lot more about the scientific evidence showing this will be safe for them".
Meanwhile, the UK has exceeded its target to increase coronavirus testing capacity to 200,000 a day by the end of May, with 205,634 tests available on Saturday.
Widespread testing forms a central part of the government's strategy to control the virus, as it aims to ease blanket lockdown in favour of more targeted measures.
Health Secretary Matt Hancock described it as "an important milestone on our journey to control the spread of the virus".
While capacity for testing is over 200,000, a little more than 115,000 tests were carried out in the 24 hours up to 09:00 BST on Sunday.
Did You See This CB Softwares?
37 SOFTWARE TOOLS... FOR $27!?
Join Affiliate Bots Right Away
For several days, the government has been unable to give figures on the exact number of people who were tested.
The UK's R value – the number of people each infected person passes the virus on to, on average – is currently between 0.7 and 0.9.
If it goes above 1.0 the number of cases will increase exponentially, but if it stays below then the disease will eventually peter out.
Mr Jenrick said the government would not go ahead with some of the plans to further ease lockdown if R rose above one "or dangerously close to it".
"We're going to be doing this in a cautious and data-driven way in the days and weeks ahead," he said.
Elsewhere during the briefing, Mr Jenrick said:
The government is "working towards" plans to reopen places of worship for individual and private prayer
A decision on whether to reopen playgrounds will be kept under review, but Dr Harries said it is unlikely they will be back soon
Some 6,000 new supported homes will be made available for rough sleepers