News
Storm Ciara: Travel disruption across England
Image copyright Beds, Cambs & Herts Roads Policing Image caption A man was trapped for an hour when a tree fell on his car in Bedfordshire. England has been hit by major travel disruption, flooding and power cuts as Storm Ciara wreaks havoc across the country.Heavy rain and gales of 60mph to 80mph have brought…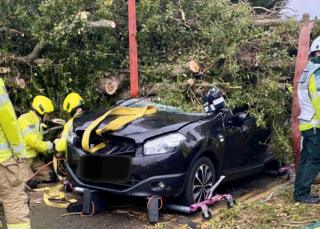 England has been hit by major travel disruption, flooding and power cuts as Storm Ciara wreaks havoc across the country.
Heavy rain and gales of 60mph to 80mph have brought some air, ferry and rail journeys to a standstill – with gusts of up to 90mph expected later.
A man escaped with minor injuries when his car was crushed by a falling tree in Flitwick, Bedfordshire.
Drivers have been rescued from rising water amid more than 130 flood alerts.
The River Nidd in Yorkshire is expected to overflow flood defences at Pateley Bridge with the Environment Agency issuing a red "danger to life" warning.
Avanti West Coast has cancelled all trains north of Preston and Northern has cancelled more than 140 trains across northern England.
About 15 people were evacuated from their homes in Rigby Road and Queen Victoria Road in Blackpool due to flooding.
Thousands of homes are without power including in Wiltshire and Cumbria.
The Met Office has issued an amber weather warning for wind across much of the country.
Network Rail has imposed a blanket speed restriction of 50mph across the network on Sunday, warning passengers to only travel by train that day "if absolutely necessary".
A Premier League football match between Manchester City and West Ham has been postponed in the interests of supporter and staff safety.
Severe Weather Emergency Protocol (Swep) shelters have opened all across the country to protect homeless people from the elements.
Visitor attractions including Chester Zoo, and Drayton Manor Theme Park in Staffordshire, have closed due to safety concerns. National Trust properties are also affected.
A lorry driver received help from by Highways England officers after getting caught in high winds on the A20 towards Dover.
Amanda Owen, known as the Yorkshire Shepherdess, tweeted a video of a trailer being washed away.
She told BBC Radio York she had brought all her sheep down from the hill where they were grazing 1700 ft (518m) above sea level.
"They are safe, they are down in more sheltered ground where they can get out of the weather," she said.
"But to go and feed them and take them hay, we are not doing it because there are so many water courses and little streams that are absolutely raging torrents.
"If one of those sheep jumped in or indeed the sheep dog or a person that would be it – end of. The force and power in that water is incredible…It's massively dangerous."
More than 3,000 properties are without power in west Cumbria near to Whitehaven, according to Electricity North West.
There are more than 2,000 homes without power in Wiltshire; in Calne, Marlborough, Devizes, Tisbury, Westbury and the SN4 postcode in Swindon.
About 500 properties in Somerset have power cuts.
In Cumbria, Pete Savin tweeted the BBC video of the swollen River Kent passing through Kendal.
Mountain rescue teams also helped families who had become stranded in vehicles at a caravan park in Keswick which had flooded.
In Shap, newsagent David Anderson said he was trying to keep water out of his shop in Main Street.
He said: "There's a significant amount of water which is going right down the street.
"We've got two lads trying to mop it out and sandbags to try and prevent water getting to our living accommodation."