Sport
Glasgow stabbings: What we know
Image copyright Getty Images A suspect has been shot dead by police and six men – including a police officer – are in hospital after a multiple stabbing in the centre of Glasgow.Police Scotland said they are not looking for anyone else in relation to the incident at a hotel.What happened?Armed police were called to…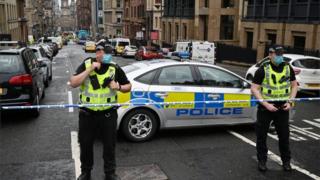 A suspect has been shot dead by police and six men – including a police officer – are in hospital after a multiple stabbing in the centre of Glasgow.
Police Scotland said they are not looking for anyone else in relation to the incident at a hotel.
What happened?
Armed police were called to the Park Inn hotel on West George Street at 12:50 BST after reports of a stabbing incident and arrived on the scene within two minutes.
Police Scotland says the male suspect died after being shot by specialist officers from the force.
Sources had earlier suggested two other people had died at the hotel, which is currently housing asylum seekers. In fact it appears only the suspect was killed.
Assistant Chief Constable Steve Johnson said the incident is not being treated as terrorism and they were continuing to investigate the circumstances.
Police said there is no longer any threat to the public but people are being asked to avoid the area.
The 91-room hotel is understood to have been housing about 100 asylum seekers during the coronavirus pandemic.
What do we know about the victims?
Police Scotland said a 42-year-old police officer, Constable David Whyte, was in a critical but stable condition in hospital.
Five other men were also being treated in hospital, aged 17, 18, 20, 38 and 53.
The Scottish Police Federation said the family of the officer has been notified and is being supported by the service.
What did eye witnesses report?
Craig Milroy was working nearby and saw a badly injured man lying on the steps outside the hotel.
"I saw a man with no T-shirt, no shoes lying on the ground with what looked like a stab wound with someone compressing the wound," he told the BBC News Channel.
Matthew Nisbet, who was working near the scene of the stabbings, said police were there "within two or three minutes of everything kicking off".
Chris Falchi-Stead was hosting a meeting at the Big Issue office, close to the hotel where the stabbings took place.
"When we looked out the window we noticed there must have been 20 or 30 police cars and about 10 ambulances," he said.
Stuart Gibson, who lives on West George Street near the Park Inn Hotel where the incident happened, told the BBC: "Armed police rushed into the hotel, it made it look as if they were looking for something.
Did You See This CB Softwares?
37 SOFTWARE TOOLS... FOR $27!?
Join Affiliate Bots Right Away
"There was certainly one person who was carried out by police."
What has the reaction been?
First Minister Nicola Sturgeon said her thoughts were with everyone "caught up in this terrible incident".
She added: "I also want to thank all of those police officers whose quick and decisive actions contained the incident – one of whom was among those taken to hospital – as well as the work of the other emergency services."
Ms Sturgeon said she has had a brief conversation with Prime Minister Boris Johnson, who expressed his concern and sympathies.
Writing on Twitter, Mr Johnson said he was "deeply saddened by the terrible incident".
David Hamilton, Scottish Police Federation chairman, said the incident was "what you dread as a police officer going into a scene like this.
"It's pretty clear that the circumstances they have been met with were really pretty horrific and what they would have had to deal with has been exceptionally brave in terms of their actions thereafter."